I posted some of my initial interactions with "Fred Gaston, Esq.", a "lawyer" in need of some severe English literacy remediation.
I still don't have my 5,125,000 euros, but complicated the process by asking for my share in bitcoin, instead of just nicely giving him my banking information and the international swift codes for my bank so that he could "make a deposit" to my account.
Here's some of the second round interactions.
Having not sent Mr. Gaston all the information he wanted, he's nicely prompting me:
Hello Peeter Joot,
Your message was received and content well noted with .I therefore
look forward to hearing from you As soon as possible to enable us make
some progress.
Kindly please expedite action.My estimation of time for the completion
of this operation is 10 business days hence I need your total devotion
and trust for us to see this through quicky.
Thank you once again.
Your partner,
Fred Gaston, Esq.
so I feed him a bit of the info he's asked for:
Since you asked, here is the address of one of my houses:
194 Roxborough Drive, Toronto, Ontario, 
M4W 1X8
Note that I don't have multiple houses, and
this house which listed a few years ago on the Toronto Real estate market for ~$20 million
, is sadly not mine.  As I have had the good faith to send Mr. Gaston my address, he has now dispensed with his request for any identification, and has gone straight for the money shot, sending me his bank transfer form.  This was a bit disappointing since I wanted to send him an image of my 1st Dan WTF Black-Belt card, as "identification".
Greetings Dear Peeter,
Having resolved to entrust this transaction into your hands,Please
copy the letter attached and fill in your bank account information
where the funds will be transferred to and then send the letter to the
bank by email to their email address as indicated to enable the bank
to begin to process the transfer of the funds to your bank
account.Please send this letter by email and then let me know.
Kind regards.
Your friend and partner,
Fred Gaston, Esq.
Here's the attached letter for me to sign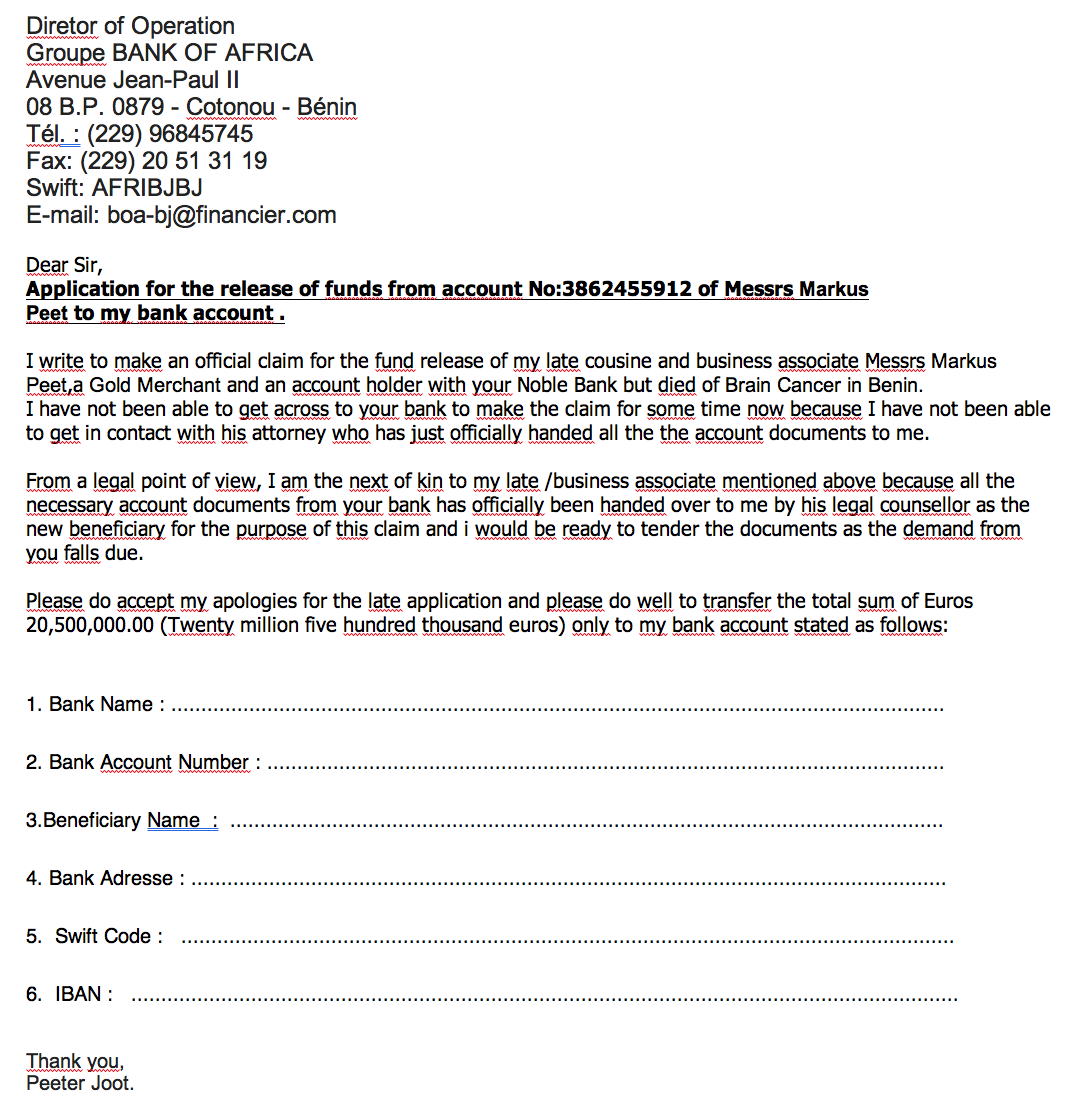 Clearly, I'm not sending him the information that he needs to make an international withdrawal from my account.  Here's a better option to "recieve my funds" :
Hi Fred,
I no longer use a bank for any of my financial matters, and have switched exclusively to bitcoin.  After I send you all my required documentation, please send my share of this large batch of Euros to my bitcoin address:
19Tht23MuaTc3YxzyX7DpogJd7BkzqVi4H
I know that there could be a currency loss on any given bitcoin transaction, but the amounts are so large that any approximation of my 40% share is acceptable to me.
His response is to gently prompt me to fill in the form anyways:
Dear friend and partner,
Please go ahead and send the application to the bank.Once the heritage
claim is approved by the bank we certainly can direct then on how to
recieve it.One step at a time.
Let me know as soon as you send the application to the bank and also
do send me the required documentation.
Thank you for your cooperation.
Your partner,
Fred Gaston,Esq.
So I have to explain what I mean:
I no longer use bank accounts, so cannot fill in your form.  The salary I take from the company I founded (GAEM), is entirely in bitcoin.
My company focuses on Geometric Algebra applications to electromagnetism.  Are you familiar with Geometric or Clifford algebras?  They are a very powerful mathematical tool.  Here's a synopsis of the basic underlying concepts:
Geometric algebra is founded on the assumption that vectors can be multiplied, and that sums of scalars, vectors, and vector products, called multivectors, are well defined. Multivector addition and multiplication conforms to most of the rules that anybody would be expect of number like quantities, with a couple exceptions: order that multivectors are multiplied matters, and there is also no general multiplicative inverse. Multivector multiplication is also constrained by a rule that provides meaning for the square of a vector. The formal statement of the algebra is that of the multivector space.
Will Mr. Fred Gaston be a kindred mathematical cousin accross continents and be interested in my passion for electromagetism and geometric algebra?  Unfortunately not.  He ignores that part of my email and gives me a new form
Dear Peeter ,
It very much sound to me that you did not understand my previous
message to you.Go ahead and send the application to the bank.Once the
heritage
claim is approved by the bank we certainly can direct then on how to recieve it.
chech now i have simplify the application ,sent it in that format.
Let me know as soon as you send it.
Thank you.
Your partner,
Fred Gaston,Esq.
Here's the new letter that he wants me to fill in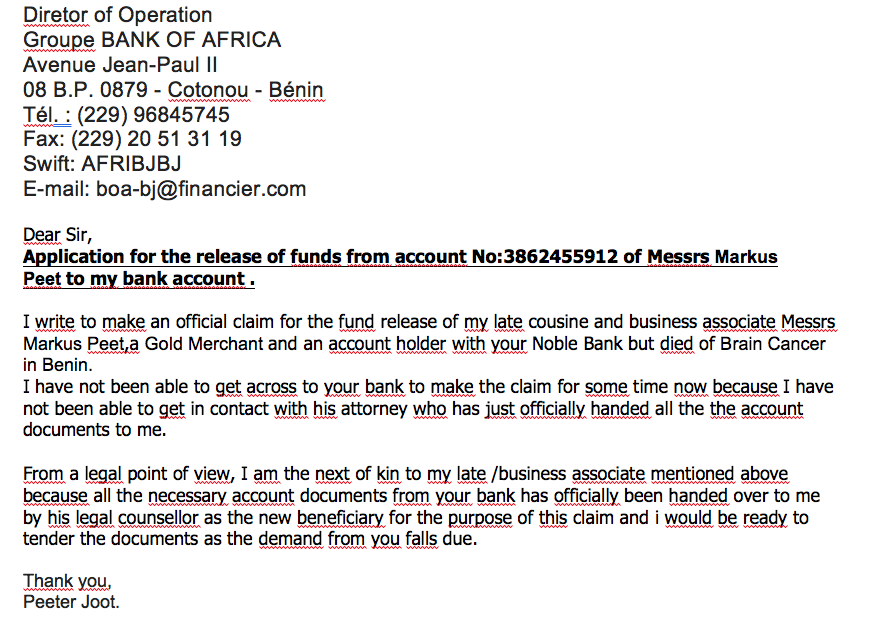 This new letter is somewhat mysterious to me, since I don't see what he has to gain by having me fill this in?  Is this just to keep me hooked, and then he'll ask for the bank info again, or is he switching to a different scam?  Google tells me that there is actually a Bank of Africa branch at this address, but I don't see any financier.com domain, and ask him about that.
It looks like there's a typo in the email address of your form, since 
financier.com does not appear to be valid.
In response he says:
Hello Peeter, Please check and make sure you actually copied the email address properly. ([email protected]) Let me know when sent. Fred Gaston,Esq.
I'm able to send a test email to this email address, and it doesn't bounce.  Later he prompts me, since I haven't taken any action:
Good morning Peeter, Happy new week to you and hopefully you are in good health today?I have no further information from you and write to know if you where able to send the application. Expedient response please. Thank you. Fred Gaston, Esq.
This gives me a nice opening, since I have a cold:
Funny you should ask.  I've actually got a pretty unpleasant cold, a side effect of too much work while jet lagged.
How is your health?
But Mr. Gaston is strictly business, once again not willing to chit chat: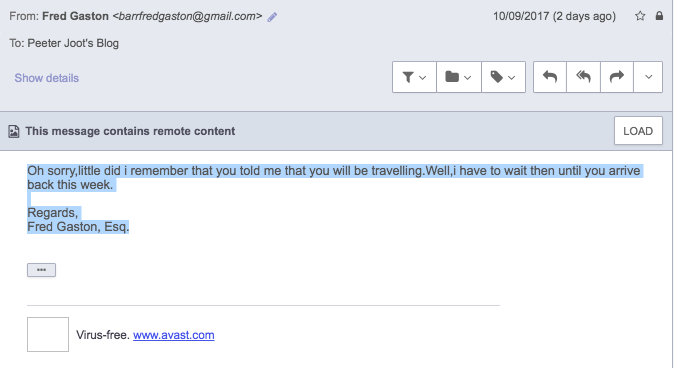 The "This message contains remote content", with a virus-free link to click is an interesting twist.  In retrospect, I took a risk opening his "letter" or even the .jpgs that had his "identification", since there was a chance that it could also have had a viral payload that my system could have been exploited with.
Having failed to get my bank info, I don't actually know if Mr. Gaston is sophisticated enough to try to infect my computer, but I am left with the inclination to not play with him any further.