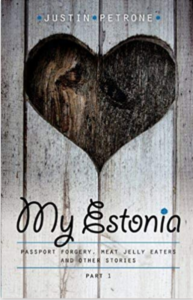 My brother was tearing through this book when I saw him last, enjoying it thoroughly. It's a book about the relationship of the author (Justin) with his Estonian girlfriend and eventually wife, as well as anecdotes about Estonia itself and some of the people encountered by Justin along the way.
My brother was amused by the characterization of Estonians as unfeeling and emotionless, and said that he saw aspects of that in Dad and himself. I don't see that in him, nor in myself. I'm also not really sure how much of that characterization of Dad is due to Estonian heritage vs. having had a rather hard life as a refugee, having had an absentee father, and having that topped off with an abusive drunk of a stepfather. Dad left Estonia at age 2, so there was limited cultural exposure available to him. I'm inclined to believe that the emotionless aspect of Estonians portrayed in this book is more nurture than nature, so I'm not sure how much of Dad's personality can really be ascribed to being Estonian.
Having grown up with blood sausage as a special treat at Vanaema's* house, I really can't understand how Justin can object to it. Who wouldn't like bloodsausage – it's so good!
I was amused that the Finns were aiming to take over the world one Sauna at a time. I wonder if the Sauna at Vanaema's old house is still there? The Finns never took over that Sauna.
I don't speak, nor understand Estonian.  I always imagined that it would make a super code language, and I love the sound of it.  We never spoke it in the house, with only one half of mom and dad knowing the language.  Dad was not terribly encouraging about the idea of learning the language, saying that it's almost impossible for somebody to learn if they didn't grow up with it.  It was encouraging to hear of Justin learning Estonian, so maybe there's hope for me in the long run.
This was an amusing book, and I'd like to read the followup stories. I just hope that now that Justin is both married, has had his child, and has valid immigration papers, he manages to shelf his anxiety.
(*) Vanaema == grandmother, literally, old mother.